03/14/19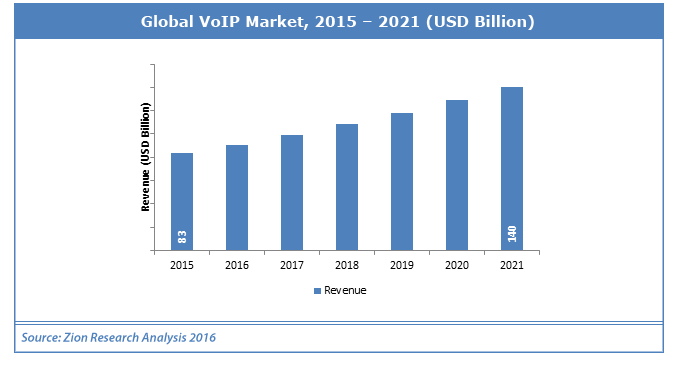 The Voice over Internet Protocol (VoIP) industry is growing. An overview of VoIP industry statistics illustrates many ways in which VoIP is expanding as businesses and consumers recognize benefits of lower costs, added features, and increased efficiency.
Overall, Future Market Insights (FMI) forecasts an increase to around 204.8 billion corporate consumer users by 2020, accounting for US $86.20 billion in global revenues. These other snapshot statistics help us quantify particular areas of interest in the VoIP industry:
VoIP Usage Statistics – Subscriber and Cloud
Business VoIP services have moved well beyond early stages to mainstream. — Infonetics analyst Diane Myers
The worldwide mobile VoIP market is expected to reach $145 billion by 2024, with an increasing trend toward bring your own device (BYOD). — Grand View Research
In 2018, about half of IT leaders had stopped purchasing new on-premise unified communications infrastructure. By 2021, Gartner predicts that number to increase to 90%. – GetVoIP
VoIP subscriptions worldwide have increased substantially, with further growth predicted in the years to 2020 as more and more residential customers and businesses turn to VoIP to reduce costs. — BuddeComm
Overall VoIP subscriber numbers have grown by approximately 14% year over year since 2009. — Infonetics
The number of seats for hosted VoIP and unified communications services was expected to double between 2016 and 2018. — Infonetics
VoIP Traffic Statistics
Phone-to-phone VOIP services was the fastest growing segment from 2014 to 2019, and was expected to increase rapidly in terms of subscriber base and revenue. — FMI
Between 2017 and 2024, computer-to-phone is expected to experience the highest growth VoIP market growth as a segment. – Persistence Market Research
Managed IP PBX service segment is anticipated to expand at a CAGR of 15.3% over 2016–2024, while hosted business IP PBX segment is expected to expand at a CAGR of around 7.8% over the same period. — Persistence
Experts expert Managed IP PBX to generate $80 billion in revenue by 2024, the highest share of VoIP services in the global market. – Persistence Market Research
International long distance VoIP calls will grow significantly through 2024, when they are expected to account for $120 billion of revenue. – Persistence Market Research
The whole VoIP services market for all call types was valued at $85.9 billion in 2015, and is estimated to reach US $190 billion by the end of 2024. — Persistence Market Research
Asia Pacific is anticipated to be one of the most dominant global VoIP services market, reaching $100 billion in revenue by the end of 2024. APAC is expected to grow at CAGR of 14% and is expected to be largest in global market owing to increase in demand for high speed communication like 3G and 4G and advancement in network infrastructure in the years to come. — Persistence Market Research and Zion Research
Business VoIP is Replacing Traditional Telephony
Robust growth in the VoIP market reflects a seismic shift from legacy circuit-switched networks to packet-switched networks. As technology in multiple industries shift to the cloud, we can expect hosted solutions with cloud infrastructure to continue to grow. Capitalize on the VoIP industry trends by leveraging ClarityTel VoIP services.
Editor's Note: This article was originally published in 2016 and was most recently updated in 2019 to include current research and statistics.
Sources:
BuddeComm Intelligence Report – VoIP and Mobile VoIP Statistics and Insights
Synopsis. (n.d.). http://www.budde.com.au/Research/BuddeComm-Intelligence-Report-VoIP-and-Mobile-VoIP-Statistics-and-Insights.html

Infonetics. (2014). Infonetics Forecasts VoIP and Unified Communications Services to grow to $88 billion market by 2018. http://www.infonetics.com/pr/2014/2H13-VoIP-UC-Services-Market-Highlights.asp
Grand View Research. (2016, August). Mobile VoIP Market Size To Reach $145.76 Billion By 2024. https://www.grandviewresearch.com/press-release/global-mobile-voip-market

Persistence Market Research. (2016, May). VoIP Services Market. http://www.persistencemarketresearch.com/market-research/voip-services-market.asp

VisionGain

VOIP Services Market: Global Industry Analysis and Opportunity Assessment 2015 – 2025. (n.d.). http://www.futuremarketinsights.com/reports/global-voip-services-market

Zion. (2016, May 3). Global VoIP Services Market Poised to Surge from USD 83 Billion in 2015 to USD 140 Billion by 2021. http://www.marketresearchstore.com/report/voip-services-market-z56122

Persistence Market Research via Herald Keeper. (2018, August 28). VoIP Services Market To Register High Revenue Growth of US$190 Billion During 2017 – 2024. http://heraldkeeper.com/market/voip-services-market-register-high-revenue-growth-us190-billion-2017-2024-106227.html

Gartner via GetVoIP. (2018, November 6). Our Rundown of Gartner's 2018 UCaaS Magic Quadrant. https://getvoip.com/blog/2018/11/06/ucaas-magic-quadrant/