10/06/16
The advantages of a VoIP business phone system are quickly evident to those who make the switch. Yet, users still wonder, "can I use VoIP on my cell phone?" The answer is yes. Businesses can see greater employee efficiency when workers use their mobile devices as  VoIP phones.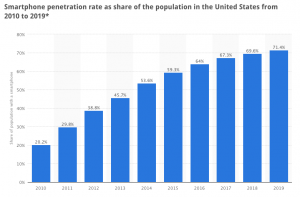 Image source: emarketer; US Census Bureau
People love their phones — their own phones. Make it even easier for employees to turn the phone in their pocket or pocketbook into an office phone by embracing mobile VoIP technology.
67.3% of Americans are expected to use a smartphone by 2017.
VoIP phone systems send voice and other communications as data packets via Internet — the acronym officially stands for Voice over Internet Protocol after all.
Making VoIP Mobile via Cell Phones
Many VoIP service providers offer advanced features that can turn the cell phone into a company phone, without customers or clients even knowing the difference. For instance, call routing can setup the VoIP phone number to follow an employee to any other office extension or a home or mobile phone number. At the same time, the worker can make calls from the cell phone with the Caller ID showing the customer the familiar company number and name.
Those with VoIP services in the office can configure mobile devices to pick up an internal WiFi and automatically register with the office PBX system. An advantage of this method is that the phone will only function as a company phone on-site. Good for businesses that want to do what they can to enable positive personal-professional life balance.
With the flexibility of VoIP services offering employees calling features such as hold music, voicemail and access to conference and video calls, it becomes easy to use a cell phone for work — even on a VoIP system.
The U.S. is one of the largest smartphone markets alongside China and India with the U.S. having the highest smartphone penetration rate.
Other Mobile VoIP Advantages
Smartphone users can benefit from lower cost calling and texting while the business can pay for fewer office phones.

Greater flexibility in call times than a cellular voice plan offers

No messaging limits or roaming fees either.

Digital data transmission using VoIP is typically faster as the data is spread over multiple packets to insure the fastest route to the intended destination.
Making a cell phone a mobile VoIP phone using an app or VoIP services can also add new and useful features that can enhance overall business communications.
Related Articles:
Why is VoIP Good for Business?
Can VoIP Phones by Wireless?