10/10/16
Small business owners face many obstacles, but let's consider three of the top small business challenges in 2016, as identified in Wasp Barcode Technology's survey of some 1,100 small business owners:
Growing revenue

Hiring new employees

Cash flow
Whether or not this list captures every business' top concerns, these challenges are likely familiar. What can a small business do to meet these issues?
Grow Revenue
Wasp's small business respondents identified some of their top strategies for increasing revenue:
Launch new products/services (31%)

Expand into new markets (30%)

Hiring new employees (29%)

Invest in new customer acquisition and methods (28%)

Invest in training or tools to improve employee productivity (27%)

VoIP can help too, as business VoIP systems are an affordable option with more than just cost benefits. Lower costs while providing expanded access to services, support, and consistently updated telecommunication solutions.

Hiring New Employees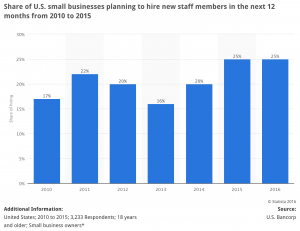 The hiring process is a headache for everyone involved. It requires putting together a posting, vetting resumes, interviewing candidates and getting everyone on board with a decision. Make the process easier with these suggestions:
Be specific and detailed in writing the job description; the better you identify what you really need, the smoother the search should be.

Review candidate resumes and applications to screen out unlikely applicants and better streamline the interview process.

Use social media; social channels are a good way to expand the candidate pool. Plus, reviewing potential candidates' social presence can help the hiring team get a better sense of the applicant.

Ask good questions. This will require preparation, but will save you time down the road by helping you avoid hiring unqualified people.
In hiring new employees, be open and honest about your business too.
Cash Flow
Many small businesses are impacted by cash flow problems. Even when sales rise and you keep an eye on expenses, there may still be stress related to paying bills on time or waiting for customers to pay you. What can be done?
Invoice promptly. Be consistent about when and how you will invoice to keep better records and set customer expectations.

Catch problems early. There are many things to manage in a small business, but it can pay to keep an eye on collections. If customers aren't paying, communicate with late notices and call to follow up.

Cut back on expenses. Look for cheaper options. Once yearly someone at the business could reach out to vendors to be sure that the company is getting the best deal available currently.
Partnering with a hosted VoIP provider can help with cash flow as the business remains cutting edge while paying a monthly subscription fee instead of a contract. Making calls at different times of day? Nationally or internationally? Directing VoIP calls to mobile phones? Need conference calling capabilities? VoIP business phone services let you do all of this and more for a set fee. Companies can better budget and plan in advance, knowing too it is easy to scale up or down with VoIP technology.
Better meet small business challenges with strategic thinking and, of course, VoIP.
Related Pages:
Advantages of VoIP for Small Business
Small Business Phone System
Small Business VoIP